Countless companies, big and small, have started using non-animal testing methods for household products. If you want to do the laundry and keep your conscience clear, check out these vegan laundry detergent brands on Amazon. You can buy these cruelty-free, eco-friendly laundry detergents from the comfort of your home.
The Best Vegan Laundry Detergents in 2019
What's Inside Eco-Friendly Laundry Detergents?
Safe and Eco-Friendly Ingredients
You can keep a clear conscience as you wash your clothes by making sure that you use laundry detergents made from ingredients that are derived from plants. Some ingredients come from natural minerals, and if you want to help save the planet, make sure those are abundant minerals. Here's a list of natural ingredients that you would usually see in eco-friendly laundry detergents.
Laureth-7: plant-based surfactant or cleaning agent that biodegrades readily
Lauryl glucoside: plant-based surfactant or cleaning agent that biodegrades readily
Sodium citrate: plant-based pH optimizer that biodegrades readily
Sodium chloride: mineral-based thickener
Amylase: naturally derived cleaning enzyme that biodegrades readily
Mannanase: naturally derived cleaning enzyme that biodegrades readily
Lipase: naturally derived cleaning enzyme that biodegrades readily
Tetrasodium Glutamate Diacetate (GLDA): inherently biodegradable, naturally derived water softener
Methylisothiazolinone: inherently biodegradable preservative made from synthetic materials and prevents bacterial growth
Benzisothiazolinone: inherently biodegradable preservative made from synthetic materials and prevents bacterial growth
Dirty Ingredients
There are so many ingredients that manufacturers can use to produce environmentally friendly laundry detergents that it's easier to check what should not be in your laundry detergent. Below are some of the "dirty" ingredients that you should avoid.
For your safety, stay away from detergents that have these highly toxic ingredients:
2-Butoxyethanol
Ammonia
Chlorine Bleach
MEA (ethanolamine)
Paraben
Phthalates
Triclosan
Some ingredients are not toxic to humans but they are harmful to the environment. Worse, there are ingredients that are dangerous for both humans and our environment.
Ammonia
EDTA
Phosphates
Triclosan
---
The Best Vegan Laundry Detergent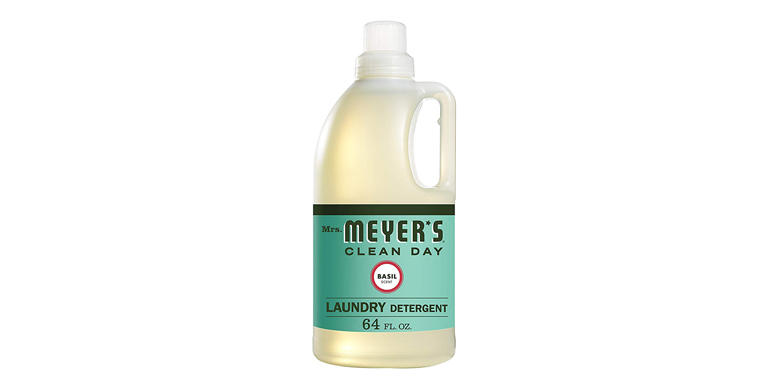 Mrs. Meyer's Laundry Detergent, Basil
One of the most environment-conscious brands, Mrs. Meyer's Clean Day is committed to improving the Earth one flower, plant, and tree at a time. The company is active in eco-friendly campaigns and partnerships. It's one of the vegan, cruelty-free laundry detergent brands recommended by PETA.
The brand's dedication to make the world a more compassionate place reflects on its products that are made of ingredients derived from plants and abundant minerals. None of Mrs. Meyer's Laundry Detergent's ingredients are on the list of harmful ingredients. In fact, the product is made of natural and biodegradable ingredients. The bottles are made with at least 25% post-consumer plastic, and more importantly, the products are not tested on animals.
Mrs. Meyer's Laundry Detergent is tough on stains—thanks to its natural surfactants—but it's gentle on clothes and good for the environment. It's suitable for both conventional and high-efficiency washing machines. It's low sudsing so it can be used in top-load and frontload washing machines, but with its concentrated formula, each ounce can clean a full load.
We love the cool and crisp basil scent. The inviting herbal fragrance would fill the house and put you in a good mood. Your other options are lavender, lemon verbena, geranium, and honeysuckle, and these scents are also available in Mrs. Meyer's household cleaners, air fresheners, and body care products.
---
The Most Eco-Friendly Laundry Detergent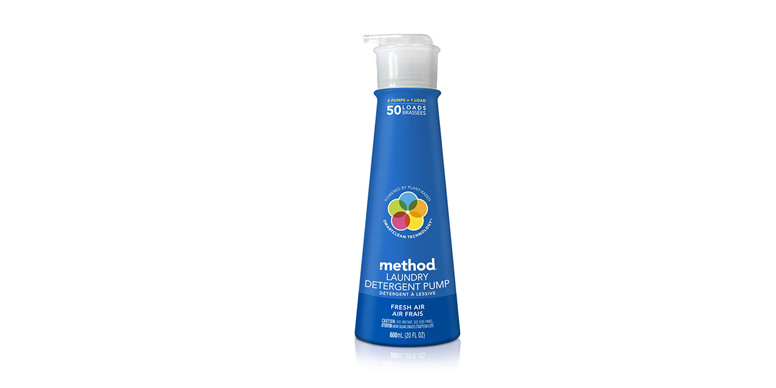 Method Laundry Detergent with Pump, Fresh Air
Method's ultra concentrated vegan laundry detergents are available in various scents, including Ginger Mango, Spring Garden, and Beach Sage. It has some of the best scents among the detergents on our list, and it also offers fragrance-free options.
Aside from the formula's high efficiency, Method laundry products are naturally derived and made from nontoxic ingredients. They don't have the formaldehyde, parabens, chlorine bleach, phosphates, phthalates, and DEA. What's even better: the bottles are 50% recycled plastic and the formulations comprise renewable ingredients as part of Method's greensourcing program. More importantly, Method laundry detergents are not tested on animals.
Like our top pick, Method laundry detergent with pump contains only cruelty-free and eco-friendly ingredients and none of the dirty ingredients. Each bottle can effectively clean 50 loads, but it's a little more expensive than Mrs. Meyer's Laundry Detergent.
---
Vegan Laundry Soap for HE Washing Machines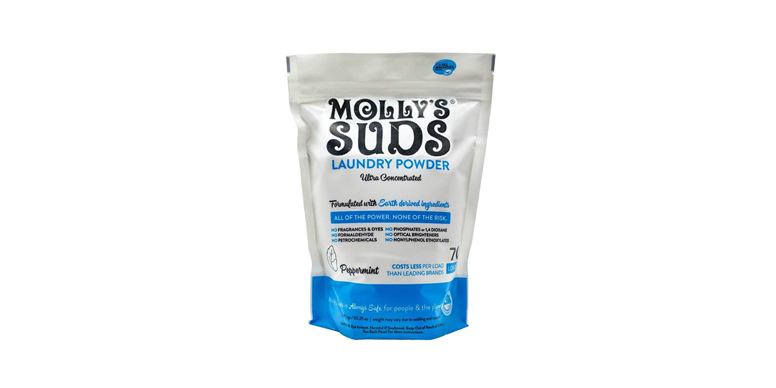 Molly's Suds Original Laundry Powder
Molly's Suds is one of the cruelty-free brands that are certified by the Consumer Information on Cosmetics, a network of eight American and Canadian animal protection groups that started the Leaping Bunny program. Despite the name, Molly's Suds laundry detergent does not create suds so it's great for high-efficiency washing machines.
This vegan laundry soap is perfect for individuals with sensitive skin or allergies. Its formula is safe for the whole family, including newborns and those with skin conditions and impaired immune system.
Molly's Suds laundry powder is made from sodium carbonate that's sourced from the Green River Basin in Wyoming and sodium bicarbonate that can also be derived from abundant mineral sources. Optimizing pH levels, these ingredients disperse safely in the environment. Instead of artificial fragrances, Molly's Suds uses organic peppermint oil for scent. None of the dirty ingredients above are in Molly's Suds laundry detergents.
---
Eco-Friendly Laundry Detergent for Travelers
LG Lucky Fiji Laundry Sheets
LG—the same company that produces some of the best televisions, washing machines, and other electronics in the world—spent years on research to provide us with a convenient, travel-friendly laundry solution. Using LG laundry detergent sheets means no spills, no mess! It's great for people who use community or commercial washing machines and those who simply want to keep their laundry room clean. It's perfect for light packers. Imagine traveling with just a few clothes and some lightweight laundry sheets that virtually don't take space in your backpack or suitcase.
Each pack has 3 packets, and every packet has 15 sheets. One sheet has the power of 100 ounces of liquid detergent. The sheets are packed in recyclable boxes, but what we like the most about LG laundry detergent sheets is the natural ingredients used to make them: baking soda, coconut, papaya, and aroma oil. They have plant-based enzymes that remove stains but no fluorescent whitening agent, petroleum surfactant, phosphate, paraben, and triclosan. Each sheet dissolves completely, and you will have only clean clothes that smell fresh.
---
The Best Vegan Laundry Detergent for All Types of Fabric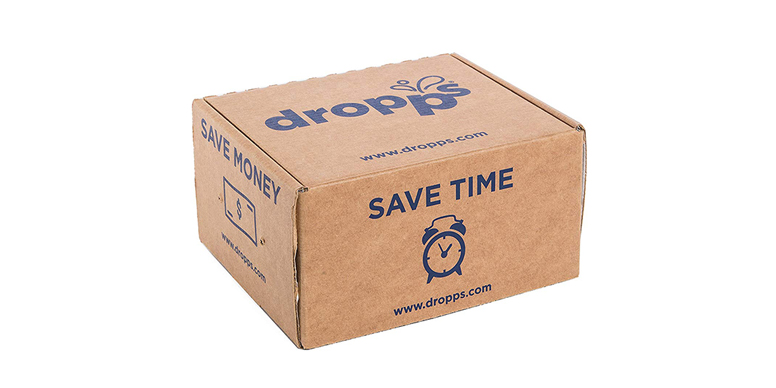 Dropps Scent-Free, Dye-Free Laundry Detergent Pacs
If most of your clothes are made from delicate fabrics like wool and silk, Dropps laundry detergent is one of your best cruelty-free options. It's also the most affordable overall at $0.18 per load. You will also love Dropps laundry pacs if you have a lot of dark clothes and hate to see them fade after several washes.
Each box has 160 natural laundry detergent pacs made from biodegradable, plant-based ingredients. There's no artificial scent, dye, phosphate, or chlorine. If you don't like products in plastics, including recyclable plastic, you can have the peace of mind with Dropps recyclable and compostable packaging.
---
Vegan Laundry Detergent With Stain Remover and Brightener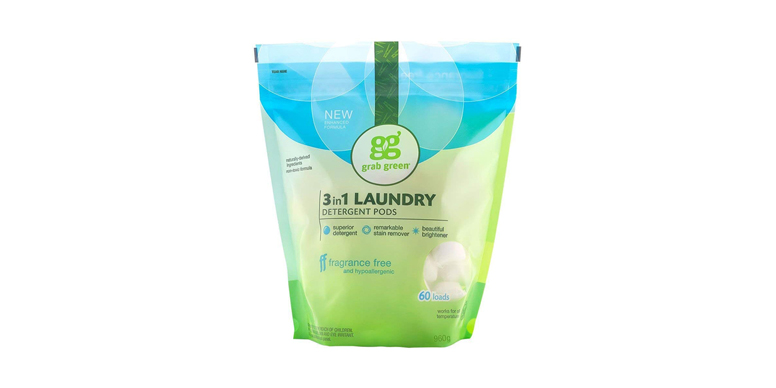 Grab Green Plant-Based and Mineral-Based Laundry Detergent Pods
Grab Green is one of the most eco-friendly brands that we know. Its laundry detergents are not only made from naturally derived ingredients—plants and minerals—but also cruelty-free. You can see the complete list of its laundry detergent ingredients in its velcro-equipped pouches.
With all these attributes and its effectiveness in removing stains and brightening clothes, Grab Green definitely deserves a spot in this roundup. Enjoy clothes that are clean and smell fresh. You can choose from lavender with vanilla, vetiver, and gardenia scent.
---
96% USDA Certified Bio-Based Formula
Amazon Presto! Bio Liquid Laundry Detergent
Presto! bio-based liquid laundry detergent sits in the middle of affordability and effectiveness. Its USDA-certified formula consists mostly of plant-based cleaning agents, such as laureth-6 and sodium lauryl sulfate; its water softener, enzyme stabilizer, anti-foamer, and enzyme soil remover are all derived from plants. Its pH optimizer or adjuster (sodium hydroxide), viscosity modifier (sodium chloride), enzyme stabilizer (calcium chloride) come from abundant minerals. If you prefer eco-friendly products, you can have that peace of mind while doing the laundry because Presto! laundry detergents come in 100% recycled plastic bottles.
Its concentrated formula works wonders. One dose is equivalent to two doses of more popular liquid detergents. Clothes smell nice and the whites are brighter.
---
Fragrance-Free Biodegradable Laundry Powder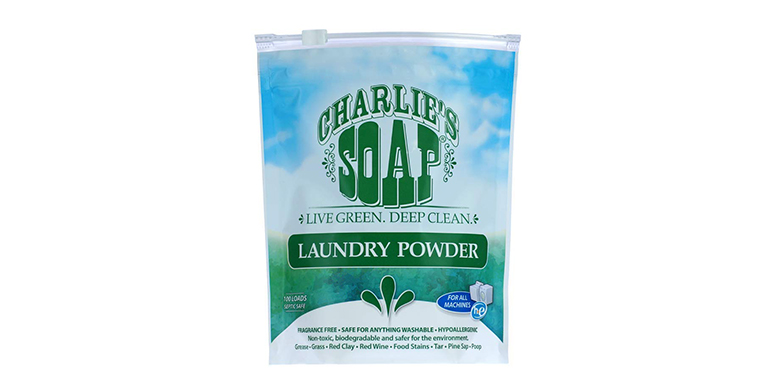 Charlie's Soap Powdered Laundry Detergent
Charlie's Soap is the best for deep cleaning as long as it's used properly. It's a safe and effective biodegradable laundry detergent that can be used to remove grease, food stains, red wine, and tar. It's also great for washing clothes that have been soaked in sweat. Wash your clothes with Charlie's Soap powdered laundry detergent to get clean clothes that smell nothing but clean fabric. We also recommend this laundry detergent if you use a septic system because it surpassed the standards for biodegradability of ingredients.
---
The Best Vegan Laundry Detergent for Dry Fit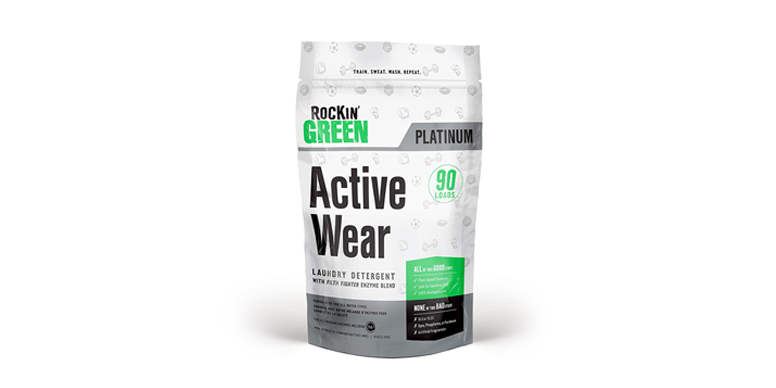 Rockin' Green Active Wear Laundry Detergent
If you're looking for an eco-friendly option for washing dry fit and other high-tech clothing, Rockin' Green laundry detergent powder is the best option. It's made especially for people with an active lifestyle. This detergent will make sure your athletic gear is clean and won't smell before you even begin with your workout, training, etc.
Its ingredients are naturally derived and biodegradable. What makes Rockin' Green laundry detergent powder different is it's formulated to wash away the biological residues that stick to the complex fibers of our activewear.
---
Disclaimer: Clean Finds is reader-supported. When you buy through links and mentions on our site, we may earn an affiliate commission. This does not affect the actual opinions and recommendations of the authors.
Clean Finds is a participant in the Amazon Services LLC Associates Program, an affiliate advertising program designed to provide a means for sites to earn advertising fees by advertising and linking to amazon.com.
Ara Ganio is an advocate of sustainable living and eco-friendly products.