The world is seriously hating on plastic straws right now, and rightly so. Plastic straws makeup a significant source of single use plastic pollution – Americans alone use about 500 million plastic straws a day! More and more places are waking up and banning them, and many are choosing opting to replace them with more environmentally responsible reusable straws. Buy what are the best reusable straws available?
Best Reusable Straws In 2019 (Scroll To See More Details)
Are Reusable Straws Better For The Environment?
The answer is YES! Sure it takes resources to create and ship a reusable straw, but as long as it's reused as intended it'll always be better for the planet than plastic straws. Just like with plastic bag vs fabric bag argument, it takes a certain amount of uses for a reusable straw to outweigh the comparative environmental impact of the disposable straw.
What Is The Best Material For Reusable Straws?
Short answer- stainless steel (at least we think so). Long answer, it depends. Glass, stainless, bamboo, and silicon are the most popular materials and lots of people like different ones for different reasons. Below we've tried to outline some different use-cases and suggested a certain straw depending on how the straws are being used.
Overall though, we think stainless steel is best because it's:
Safer – no risk of shatter like with glass or splinter as with bamboo
Easier to wash – they can be boiled or put in a dishwasher
Stronger – they're steel after all
Can be used with hot drinks
No taste – bamboo can have a slight taste sometimes
Recyclable – easier said than done, but it's possible.
What Are The Best Reusable Straws On Amazon?
Like we said, our favorite is this one, but let's dig deeper because it really depends on what your needs are. Here are our favorites, broken down by category.
---
Best Reusable Straw Overall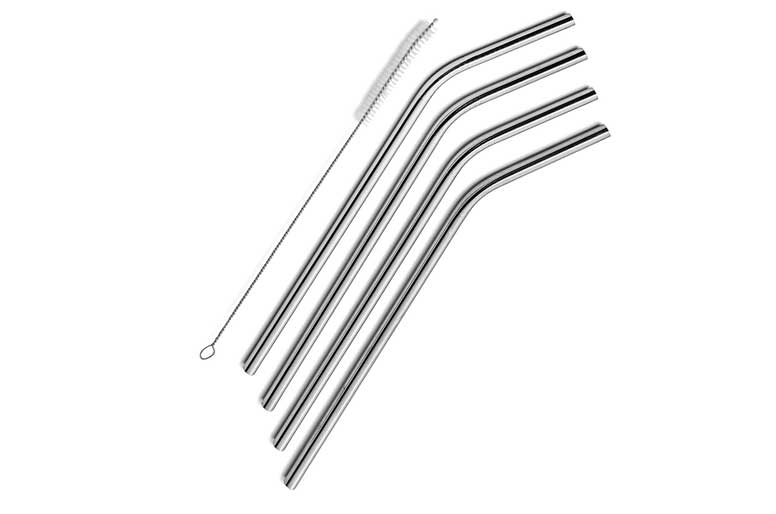 SipWell Stainless Steel Drinking Straws
With 4000+ positive reviews on Amazon, this SipWell straw is a really awesome straw at a fair price. It's made from rust and scratch proof-18/8 stainless steel, so it's pretty much indestructible. If you're worried about chipping your teeth, you may prefer a silicon straw or one with a silicon tip.
---
Best Reusable Straws For Toddlers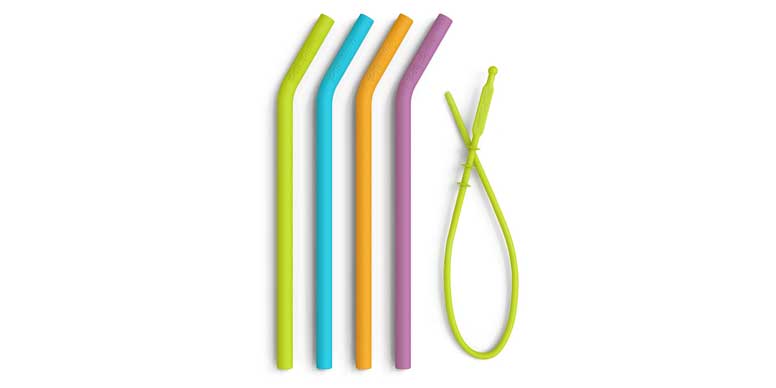 Softy Straws Reusable Silicone Drinking Straws
Softy Straws are perfect for young kids and toddlers due to their non teeth chipping silicone construction. They also come in fun colors, which is a nice change of pace from the more institutional, bland looking stainless steel straws. Although they're not biodegradable, they're extremely durable, so there shouldn't be any need to replace them any time soon.
---
Best Reusable Straws For Older Kids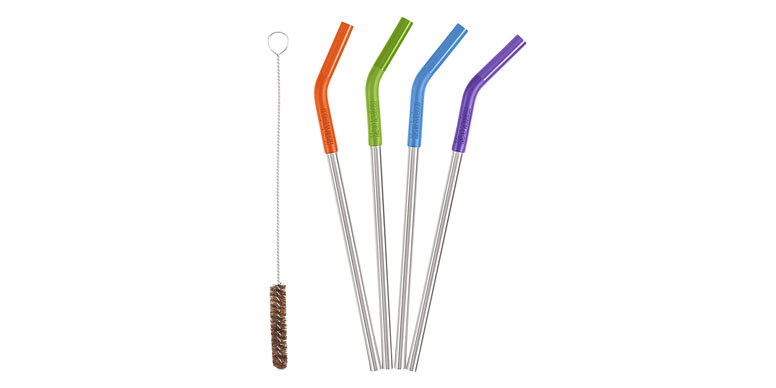 Klean Kanteen 5 Piece Stainless Steel Straw Set with Safe Silicone Flex Tip and Cleaning Brush
These Kleen Kanteen straws are mostly stainless steel, but feature a silicon tip. The different color tips are perfect for telling them apart and protecting your older kids teeth from damage. Because, who wants to pay the dentist even more money?
---
Best Bamboo Straws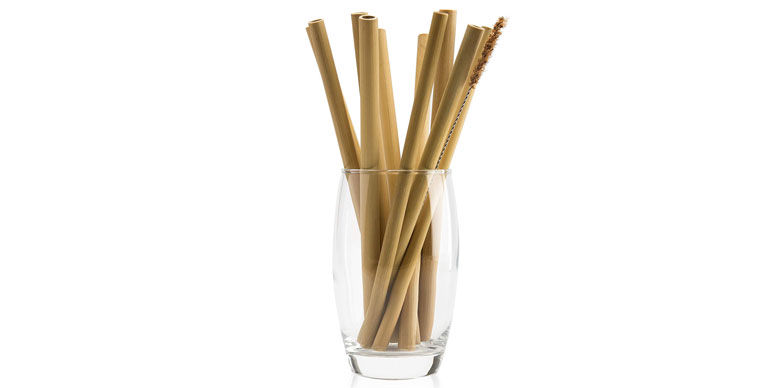 NATURALNEO Organic Bamboo Straws with Coconut Fiber Brush
Terrific for juices and cold drinks, bamboo straws have an awesome tropical look to them. You can feel like you're sipping a fresh coconut on some idyllic beach even if you're just sitting on your couch with a soda watching netflix. These ones win because they've got lots of legit reviews on Amazon and come with a cleaning brush made from coconut fiber instead of plastic.
---
Best Reusable Straws With Case
Simply Eco Stainless Steel Reusable Metal Straws
Having a case for your straw is perfect if you're bringing your straw around with you – which you should totally do. Carrying your own reusable eco-friendly food items gives you so much eco-cred.
---
Best Reusable Straws For Hot Drinks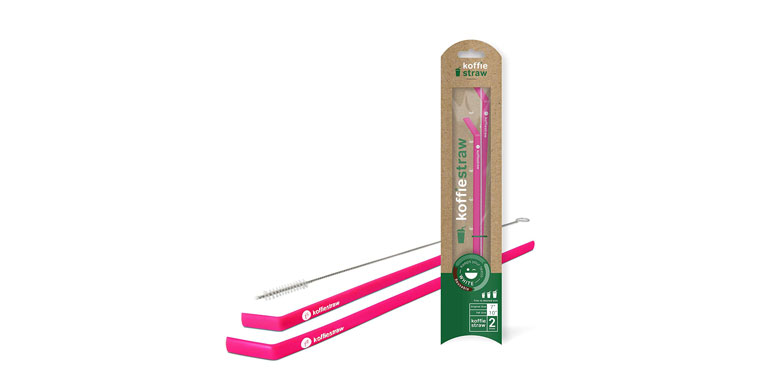 Koffie Straw
Lightweight, easy to clean, and perfect for hot liquids like… coffee. They have an oval shape which they claim keeps your teeth white, but we question exactly how effective that is. If you're drinking lots of coffee all day, your teeth are most likely still going to acquire some lovely yellow hue.
---
Best Reusable Smoothie Straws & Boba Straws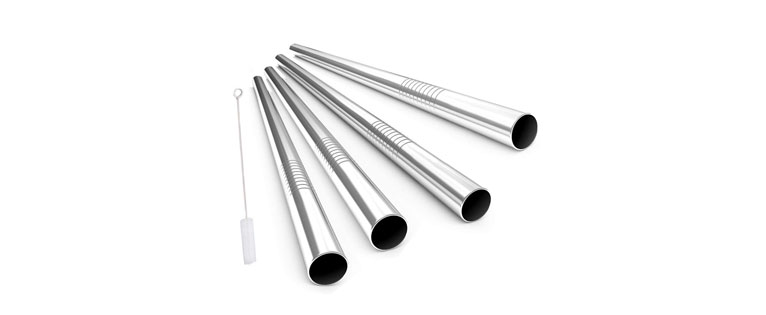 Alink Extra Wide Reusable Boba Metal Smoothie Straws
If you're into really thick smoothies and/or Boba tea (you know, with the balls?) you're going to need a thick straw to slurp it down. These big guys do the trick.
---
Best Reusable Glass Straws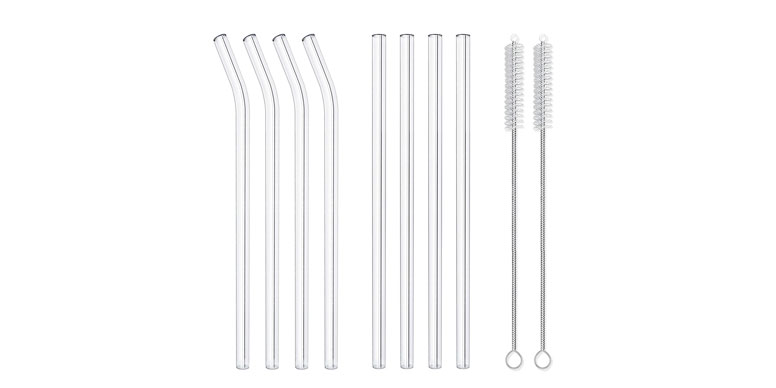 Hiware Reusable Glass Drinking Straws
While they're not great for travel and not safe for kids, glass straws are dishwasher safe and look beautiful. Another big plus with glass straws is that you can see inside them, where nasty stuff could potentially be lurking if you don't clean the well. These Hiware glass straws are really well made and have excellent reviews on Amazon.
---
Disclaimer: Clean Finds is reader-supported. When you buy through links and mentions on our site, we may earn an affiliate commission. This does not affect the actual opinions and recommendations of the authors.
Clean Finds is a participant in the Amazon Services LLC Associates Program, an affiliate advertising program designed to provide a means for sites to earn advertising fees by advertising and linking to amazon.com.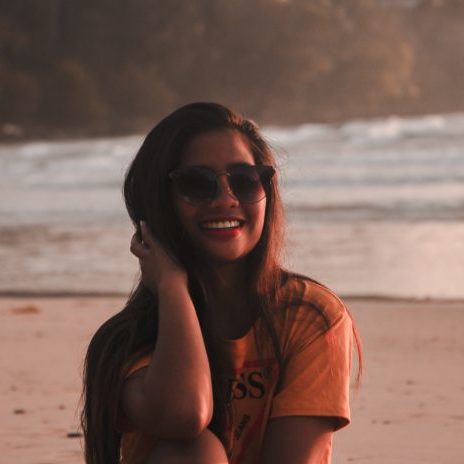 Jane McGregor is a writer and producer at cleanfinds.com. She's into saving the seas, bees, and trees, and believes everybody is a work in progress 🌱